Mommy Bistro Kids: Baked "Fried" Lemon Chicken with Honey Mustard Dipping Sauce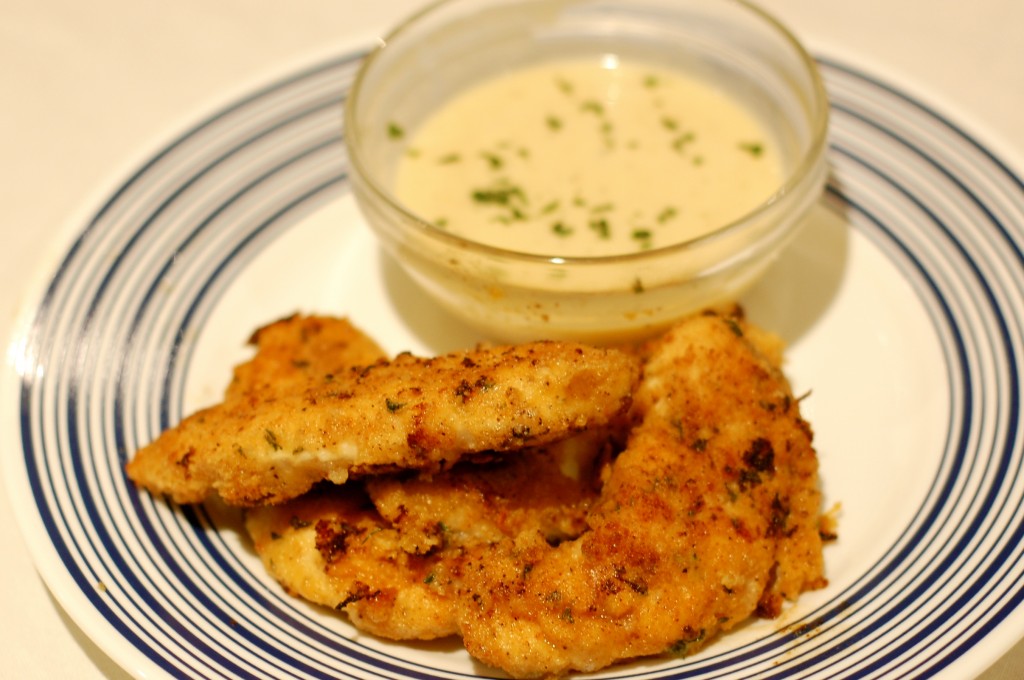 I had a horribly epiphany over the weekend. I realized that in about three years time, my girls will be off to school all day long. Which means they are growing up tooooooo fast for me. I want them to stay little and cuddle with me and still need their mommy. I know it sounds crazy, right? Three years is a long time away! But then I think about Pixie turning FIVE this year and it makes me realize that time is literally moving in fast forward for me. And school is really long. They will be in school for the next 18 years of their lives! I know we all did it but I'm just having a hard time letting my girls get so big. I'm sure our parents felt this way too. But they're my BABIES!!
Sigh…
In other news: I'm gearing up for the start of Wedding Bonanza 2012! Bachelorettes! Bridal Showers! Fittings! Hangovers! (Not too excited about that last one but it is inevitable given the next three months of my life.) And in two short months, I will also be laying on the beaches of Cabo; a much needed vacation for the Mommy Bistro family. Hubby, Buggies, Pixie, my parents and I are headed to beautiful Cabo San Lucas for vacation… and of course my sweet Kimmy's wedding. Lots going on people!
In the meantime, let's make the kids eat chicken. (I'm just kidding of course! Dont force feed your children animal protein if you or they or both of you don't like it. But if you do…and your kids do…this one's for you!!)These breaded little chicken strips are delicious with their lemony flavoring and honey mustard sauce. If you're kids don't eat meat – don't tell them its chicken. Tell them it has fruit in it and they should try it. It worked for me! PIXIE APPROVED! Buggies liked it but she only ate three bites but then again, she's 2 1/2 and asserting a ridiculous amount of independence. So kudos to Pixie for giving it a 4 year old thumbs up. I served it alongside some yellow squash that I sauteed on the stove with a little salt and pepper. Both items were a hit!
Hubby's note: Screw the kids. This is a daddy meal. This chicken was insane. Love the lemon. Perfect for a buffalo wing healthy substitute on game night or poker night.
1 ½ cups flour
½ cup parmesan cheese
Lemon rind of 2 lemons
3 garlic cloves, minced
salt and pepper (can use seasoning salt if desired)
½ cup butter (melted in the microwave with the garlic)
¼ cup fresh lemon juice
1 tablespoon finely minced fresh garlic clove (can use more or less)
5 -6 boneless skinless chicken breasts (pounded to about half and sliced into strips – or like my lazy butt, I got the chicken already sliced into tenders from the store)
paprika (optional)
Directions:
Preheat oven to 350°. Butter an 11 x 7-inch or a 9-inch baking pan. In a bowl, combine the flour, parmesan cheese, lemon rind, salt and pepper. In another bowl combine the melted butter/garlic mixture and lemon juice; whisk well to combine (if you run out of butter when dipping the breasts, just melt about another 1/4 cup butter and add in about 1 tablespoon more of lemon juice in the microwave. Dip chicken in flour, then the butter mixture, then roll in flour mixture. Place chicken on your greased baking dish drizzle with any remaining butter/lemon mixture; sprinkle with paprika if desired. Bake uncovered for 35-45 minutes or until the chicken is cooked though (baking time will vary depending on how thin you pounded the chicken). Serve with Honey Mustard Sauce!
Honey Mustard:
3/4 cup mayonnaise
3 tablespoons honey
1 tablespoon dijon mustard
2 tablespoons lemon juice
salt and pepper to taste
Dried parsley flakes (optional – I used them to make it look pretty in the pictures)
Directions:
Combine all ingredients; stir well. Cover and chill for 2 or 3 hours.
Comments