Morning Glory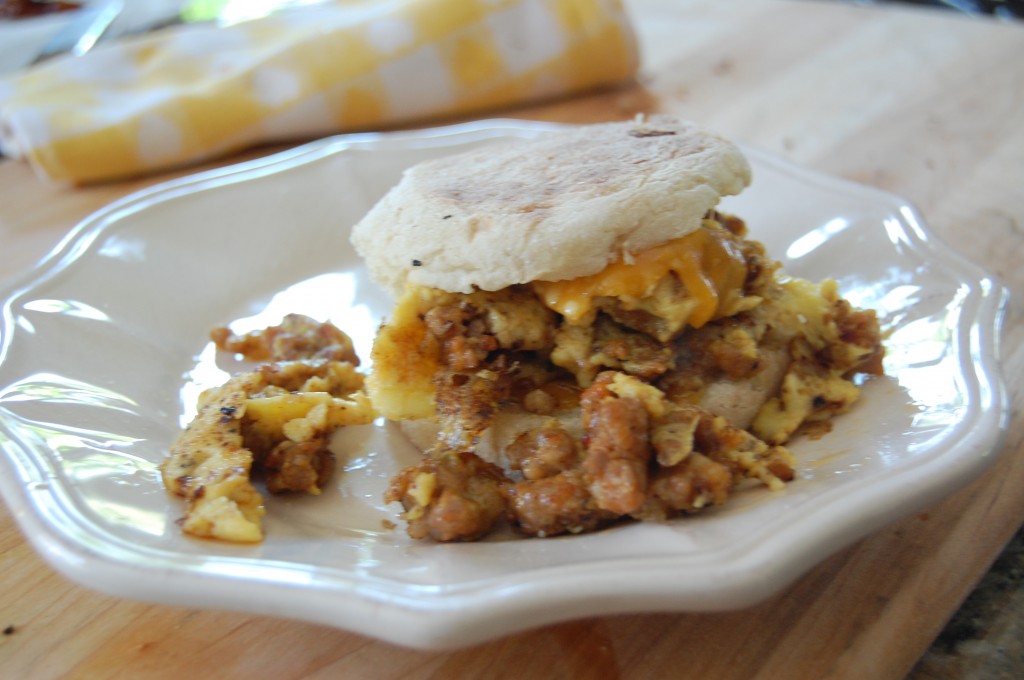 So, being a parent is one of the most exhausting (but totally rewarding) jobs on the planet. There are times when I am watching the clock like a crazy person counting down the minutes until Ryan walks in the door. And other days? It's smooth sailing. You moms out there know what I'm talking about, right? Well, on weekends we love to be lazy. Like, grab the kids, bring them into our bed and turn on Tinkerbell (their FAVORITE!) while we catch a blissful 10-15 minutes more of sleep. But once that 10-15 minutes is over, Buggies is climbing all over us. "Mommy? I wannanack." Translation? Mommy I want a snack. So, I head to the kitchen to start on….Morning Glory. It's the end all, be all sandwich that keeps evolving and getting better. I had no idea it could do that.
Hubby's note: The title of this sandwhich says it all. I'm not a morning person. And if it's Saturday or Sunday morning, you can bet your ass that i'm dragging mine as Friday and Saturday nights are No Holds Barred in our house. For some reason my body/mind didn't get the memo that once you have kids, there is no such thing a sleeping in. So i stay up late, and pay the price then next morning. This sandwhich saves me. It fills my taste buds, mouth, stomach, and head with all that is good in the world, and soaks up all that bad stuff from the night before. Best breakfast ever!
Ingredients:
4-6 eggs (depending on how big your fam is)
1/4 teaspoon garlic powder
Pinch of fresh ground black pepper
1 cup shredded cheddar cheese
1/2 pound bacon
4 Extra Crispy english muffins
1/2 pound Hot Italian Sausage: not the links…the ground stuff. (optional)
Directions:
Cook the bacon and sausage till they are as crispy or cooked as you like them. Do NOT discard the grease. You see where I'm going with this, don't ya? Put the bacon and sausage on a plate. Keep your pan hot and cut your english muffins in half. Quick digression. Why do they "perforate" the english muffins to have them not actually easily come apart when you try doing it with your fingers? Save me the frustration. Leave them whole and I'll cut them in half. Okay. Back to Morning Glory. Put your english muffins cut side down into the glorious bacon grease and cook until brown and crispy. While the english muffins are soaking up that bacon grease, beat your eggs with the garlic powder and pepper. When the english muffins are done, remove them from the pan and put them on a plate. You should still have enough grease left in the bottom of your pan so throw your eggs in the pan and start scrambling them. Then add the crumbled sausage and cheese.
Now to put it all together. Place the english muffin cut side up on a plate. Put a large heaping of egg/sausage/cheese goodness on one side. Then…do it. I know. It's bad. Put 2 slices of bacon on top of the eggs. And close that sandwich up with the other half of muffin. You're other half will marry you again if you make this for them. Or if you're not married, I see a proposal in your future.
Comments
Mommy Bistro » Blog Archive » Best Breakfast Burrito - [...] and invite myself in for a burrito. This burrito is a take on my other breakfast indulgence, Morning Glory.…