Teriyaki Skewers with Grilled Pineapple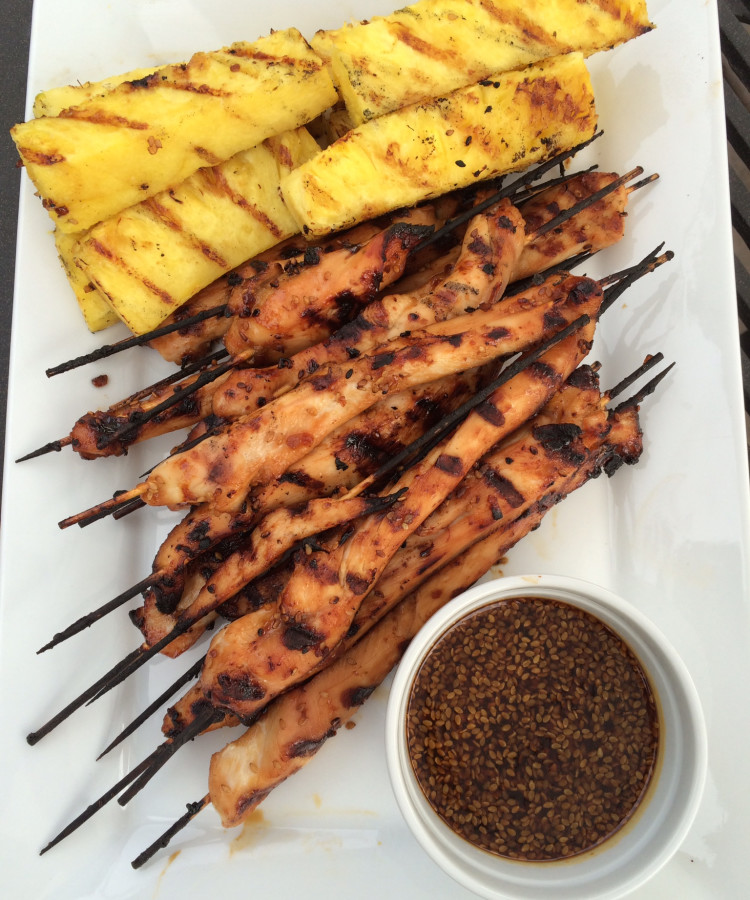 One hundred and five degrees. No, that is not the temperature you need the grill to be at to make these skewers. It is however the temperature of the muggy air outside of my house right now. Sweet baby Jesus, someone turn the heat down please!! Think of the Wicked Witch of the West being held under Niagara Falls by Dorothy; that's how much I'm melting. Although that doesn't sound like a terrible thing right now, to be under a waterfall of cool water with a Pina Colada… calm island music playing in the background…. Ahhhh, take me there!!
Back to reality! Snap out of it, kid!! Since I must settle for scorching temperatures, school days and the dreaded "H" word (homework!), these delicious skewers and pineapple will have to suffice. Good news is, I don't have to turn on my oven. The hubby does most of the work on this dinner 😉
Ingredients
1/2 cup soy sauce
1 teaspoon ginger, finely chopped
1 teaspoon garlic, finely chopped
1/4 cup peanut oil
A few dashes of sesame oil
3 chicken breasts, sliced into thin strips
Bamboo Skewers
Good quality teriyaki dipping sauce
Pineapple, cut into 1 inch thick pieces
Directions
Combine the soy, ginger, garlic, peanut and sesame oils. You can either shake them together in a dressing jar or whisk in a bowl. Set aside. Skewer chicken and add to large tupperware. Pour marinade over chicken and refrigerate at least one hour or overnight. Preheat grill and cook chicken 2-4 minutes per side depending on how thick your skewers are. Baste with marinade while cooking. Remove from grill and cover. Grill pineapple for about 2 minutes per side. Serve skewers and pineapple along side your favorite teriyaki sauce with rice and of course sriracha if you want some extra heat. Not that I need any extra heat right now. I'm melting! I'm melting!
Comments