Super Duper Spaghetti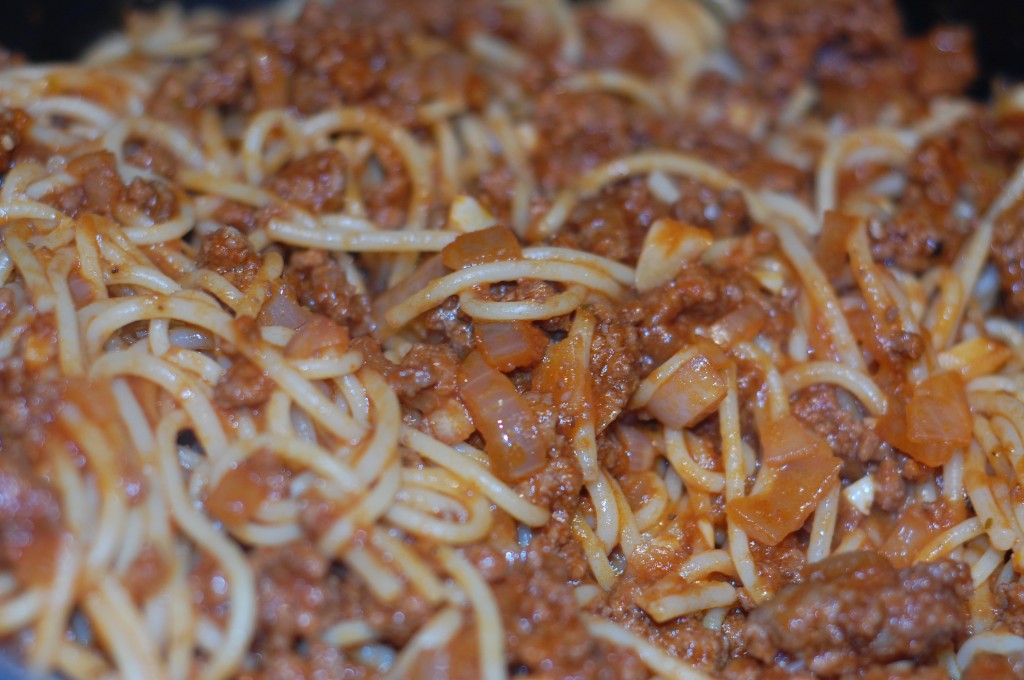 About every three weeks, Pixie will turn to me and say "Mommy will you PLEASE make Mommy Spaghetti? PLEASE!" As if she's a starved child who is fed sub-par food everyday of her life. So in my most dramatic four year old voice I respond with, "Oh Pixie! I would LOVE to make you spaghetti tonight." So, I always have the items for my spaghetti on hand. Here we go!
Hubby's note: Recurring theme…this meal is amazing! I LOVE this spaghetti and I don't even like tomatoes. The only way it could get better is if she added some garlic…er…
Ingredients:
1 pound ground beef
1 medium onion, minced
6 cloves garlic, minced
1 can tomato paste
1 can tomato sauce
2 cups red wine (one cup is for you…I got your back)
2 tablespoons olive oil
1 teaspoon dried oregano
Kosher salt and fresh ground pepper to taste
Cooked spaghetti noodles
Directions:
Cook ground beef until no pink is showing. Drain fat. Add garlic and onions and saute for 3 minutes. Add tomato sauce and paste and cook for about 6 minutes. You want most of the liquid to be absorbed. Then add one cup of the red wine and take a sip of your wine as well. I told you I had you covered! Add the oregano, salt and pepper. Simmer, stirring occasionally for 20 minutes. Add the olive oil at the end and stir it in. Take a spoon and give it a taste. If it needs some more salt or pepper throw it in and serve!
Comments