Summer Salad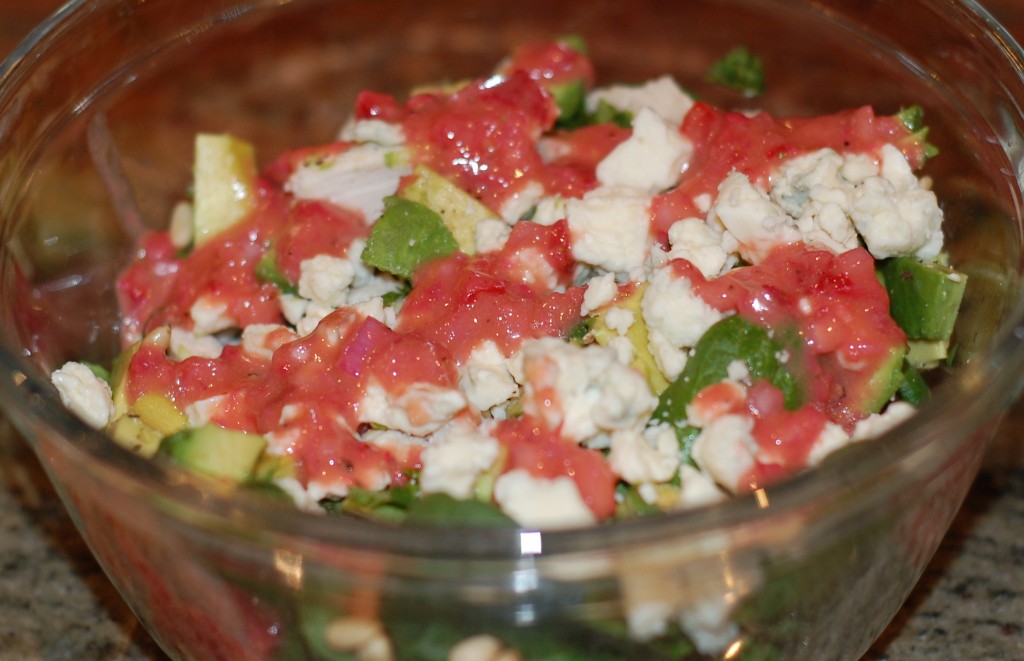 Ryan and I have been on a salad kick. It's our goal to be cute in our bikinis (well muscular and handsome for Ryan in his manly boardshorts). So I've been making every variation of salad and dressing you can think of.
Last night I made this arugula salad (I know! I'm OBSESSED with arugula!) with a fresh strawberry vinaigrette that was light and refreshing and yum.
Hubby's note: Super healthy, super yummy. Good for the waistline and surprisingly filling.

For the salad:
Arugula (two good handfuls)
Boneless skinless chicken breast (I cheated and used Trader Joe's Just Chicken)
1/2 bunch cilantro, chopped
1/4 cup pinenuts
1/4 cup Gorgonzola
1 avocado, diced
Directions:
Split the arugula between two bowls and top with the remaining ingredients. Toss with your Strawberry Vinaigrette!
Strawberry Vinaigrette
1 Cup Chopped Strawberries
2 Tbsp. Dijon Mustard
1/2 teaspoon minced fresh garlic
3 Tbsp. Red Wine Vinegar
1/3 Cup. EVOO
2 Shallots, minced
Kosher Salt & Black pepper to taste
Directions:
Place strawberries in a bowl (sneak a bite or two cause those suckers are YUM-MY!). Using a potato masher…mash 'em up! You want them to be pretty well smashed but keep some good chunks in it. Add the dijon, garlic, shallots and red wine vinegar and whisk. Then add the EVOO (Extra Virgin Olive Oil) and whisk some more. Add the salt and pepper to taste. Chill for about an hour and then whisk again before serving.
Comments