Shrimp Scampi, a Puppy and Wedding #2!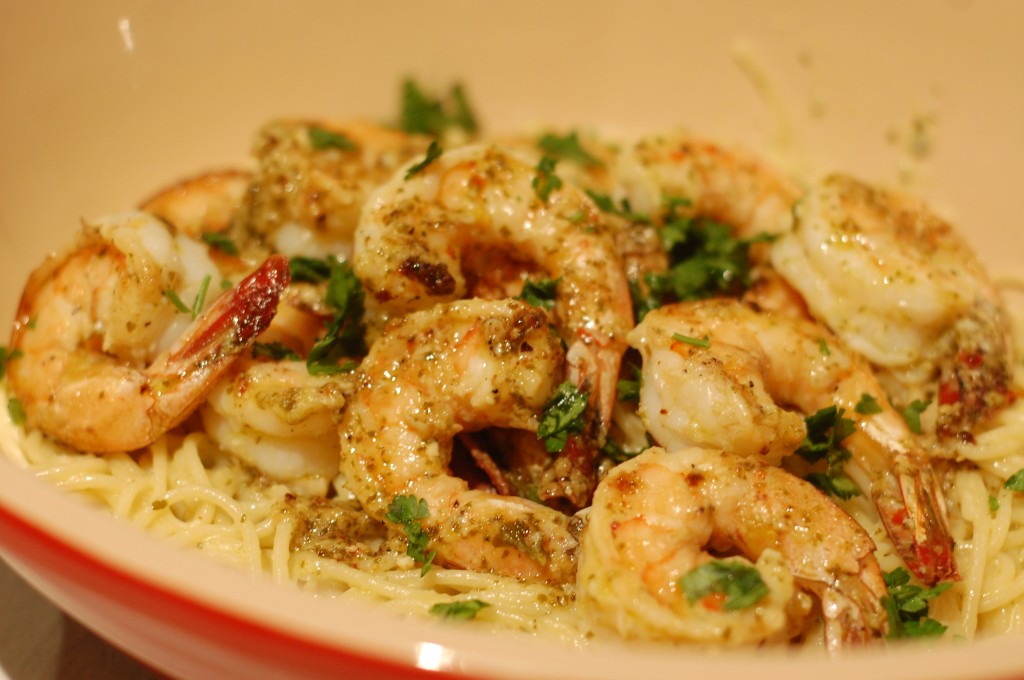 We landed back in Los Angeles with exactly one day to unpack, do laundry, grocery shop, and get some rest before the East Coast Gesell Invasion of 2012 was set to commence. That's right…wedding #2 was getting underway! Let me not forget to mention that we were also getting our puppy two days after getting home from Mexico.

I spent an obscene amount of time doing laundry, cleaning the house and running around like a chicken with my head cut off. Espresso, please! But I got it done. I even got down and dirty and cleaned all of the grout in our mostly tiled house. My week went like this….
On Monday, she cleaned and did the work of four women.
On Tuesday, they had the family over for cocktails.
On Wednesday, they adopted a puppy and went out for a birthday dinner.
On Thursday, they met the soon to be new family.
On Friday, they entertained more family.
On Saturday, she ran errands, got a pedicure, made flower arrangements and went to the rehearsal dinner.
On Sunday, she opened champagne, hugged the bride, fought back tears, had hair and make-up done, ate lunch, drank champagne, got the flower girls ready, jumped into her bridesmaid dress, laced the bride's corset dress, tried to keep the sweat lip and swamp ass under control, drank champagne, walked down the aisle, cried!!!!, watched my little sis-star say "I do" and become Mrs. Kellie Roy!!
On Monday, she ate through one nice green leaf and felt much better.
After everyone had been safely delivered to airports and we had gotten some rest (ha! Yeah right! Rest? No way. There is a ten week old puppy in my house. It's like having a newborn that can already walk.) We made it to Memorial weekend which had me jetting off to bachelorette party #3!! Recap on THAT amazing weekend in my next post. But I made it home in time to celebrate my fabulous Other Mother's birthday. Which I cooked up a delicious feast for. We both LOVE seafood and never get to have it since our husband's are picky guys (like father, like son) so I made us shrimp scampi. My mother-in-law could not get over how yummy it was. She swears its the best scampi she has ever had which made me pretty happy.
Here we go peeps!
Ingredients:
1 pound Raw Shrimp, Deveined, Shells OFF
1 stick room temperature unsalted butter cut into pieces
1 teaspoon Kosher salt
1/2 teaspoon fresh ground black pepper
4 cloves garlic, peeled
1/4 cup fresh parsley
1/2 teaspoon crushed red pepper
1 whole lemon, juiced
1 pound spaghetti
1/2 cup heavy cream
1/4 cup white wine
1/2 cup grated parmesan (the green stuff works just fine)
Directions
Bring a pot of salted water to a boil. In the bowl of a food processor, add butter, garlic, lemon juice, salt, parsley, and red pepper. Run until combined. Cook spaghetti to al dente. In a large skillet (I used my stainless steel pan), melt 3 tablespoons of the butter until very hot. Add the shrimp in a single layer. Cook for 3 minutes per side. In another saucepan, add the remaining butter and cook until fragrant. Add the wine and bring to a boil. Add heavy cream, whisking the whole time. Then add the parmesan, again whisking the whole time. Drain your noodles, add the sauce and stir until combined. Add a generous helping to your plate and top with the shrimp. Sprinkle with a bit of fresh parsley and serve immediately!
Comments