Portobello Mushroom Burger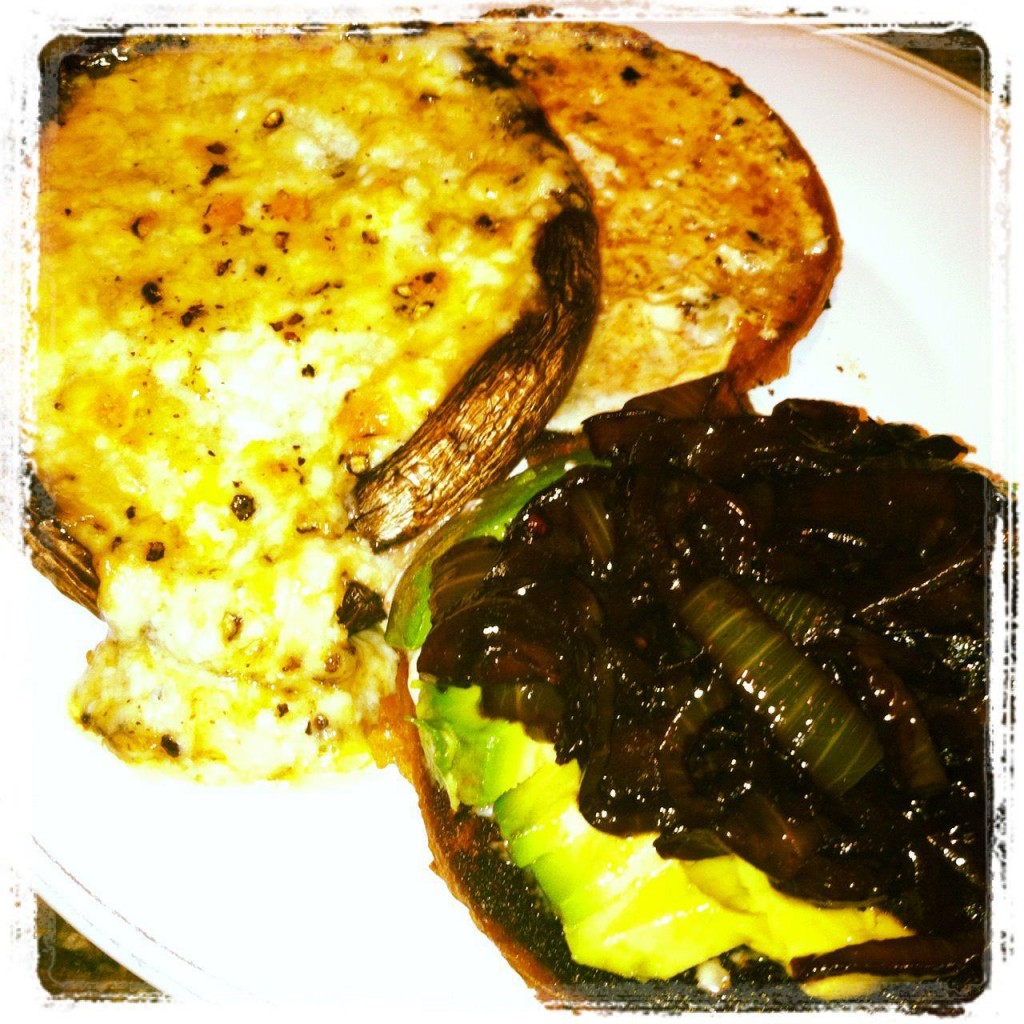 Really? I mean really? 108 degrees in Los Angeles today? Hey, Mother Nature! Did you not get the memo? It's October 1st. We are supposed to be cooling down now, not heating up! And there was no escaping this heat for me today as I was outside for most of the day.
Today I had the pleasure of going to a local farm with Buggies class on a field trip. Yes, I spent my day with tractor rides, pumpkin picking, tons of kids, corn mazes and working on my swassiness. Swassy: an adjective to describe the sweat and heat in your um….nether regions. Swamp + Ass = Swassy. Learn it and live it people.
Apparently, it was also celebrity day at the farm. Want to know how to make all of the stay at home moms in suburbia feel downright homely? Throw Halle Berry, Denise Richards and Sandra Bullock onto our field trip because let's face it, they look horrible in Daisy-Dukes and tank tops. Not cool Hollywood, not cool. Bet the hubbies all wish they were on the kids' field trip now. 🙂
After feeding all the darn animals, playing on the slide and picking out our pumpkin, we got our sweaty buns into the air conditioned car.
Darling Earth of ours, could ya cool it down 20 degrees or so?
Now for my burger confession. I honestly really do not like hamburgers. The only way I can eat one is if the patty is thin as paper. I can't have half of a stinkin' cow chilling in my buns (Ok, that didn't come out right). So, I've taken to skipping on the beef and subbing a portobello mushroom for it. Add in some other veggies and gorgonzola cheese and I'm in heaven!
Hubby's Note: I'll leave the buns comment alone (for now). I'm also going to avoid commenting on Greek Goddesses that descended upon Underwood Farms and the field trip I so happily avoided. All I'm going to say is that a burger is not a burger, unless there is meat in it. Buns were made to have meat in them. hehe.
Ingredients
1 portobello mushroom, scrubbed and stem removed
1/4 cup Gorgonzola cheese
1/2 avocado, sliced
1/2 red onion, sliced into rings and cut in half
1 1/4 cup red wine
1/4 cup balsamic vinegar
1/4 cup arugula
1 hamburger bun
1 tablespoon mayo
1/8 teaspoon cayenne pepper
Directions
After washing and removing the stem of your mushroom, fill it with Gorgonzola cheese. Pour balsamic vinegar and 1/4 cup red wine into a pot and add onion. Pour remaining wine into a glass and take a swig (you're welcome). Cook the onions until they are a deep red and almost all of the liquid has reduced or been absorbed.
If the hubby is gone or you just don't grill, you can bake your mushroom at 350 degrees for 15 minutes. If your grill is ready and available, cook until your cheese is deliciously melted and your mushroom is soft. I like to pan cook my bun in some butter until it is a golden brown. Mix your mayo and cayenne pepper and spread on your bun. Then comes the layering.
Bun
Mushroom
Arugula
Avocado
Balsamic onions
Bun.
Grab your glass of wine and ENJOY!
Comments