Pip's Caramel Pops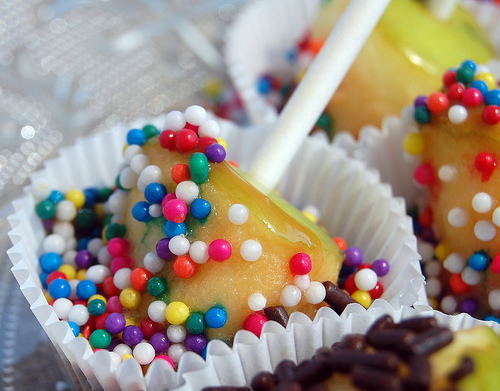 It's that time of the year ALREADY??!?!? Seriously. I feel like it was last week that my girlfriends and I were talking about summer and drinking margaritas in the backyard. Now the leaves are changing and Pixie is amped up about this year's Halloween costume, Ariel. Which of course also means it is nearing her birthday. Every morning her first question is, "Mommy? Is TODAY my birthday?"

I guess I have to resign to the fact that time really does move in fast forward when you have kids. Years are literally flying by even though I feel like I'm still 24. As I said in my previous post, I've been asked to pair some recipes for family movie nights. So, this recipe comes from the movie Enchanted. I'll let Nikki (http://myfootinmymouth.blogspot.com/) tell you all about the movie. Just know that Patrick Dempsey is in the movie and he very easily fits his nickname of McDreamy. I'd super-size my order if he was on the menu. What I will tell you is that Pip is a pretty cute chipmunk from the movie who goes to rescue Princess Giselle who is lost in New York. And of course there are some poison apples. The kids will have a BLAST making these delicious little treats. Just know it will be a messy process, but so delicious in the end.
Hubby's note: I've heard Patrick Dempsey is allergic to Caramel. Amy Adams on the other hand…
Ingredients
Small lollipop sticks
Melon baller
Granny Smith apples (one apple makes about 6 mini apples)
Mini chocolate chips, sprinkles, shredded coconut, mini M & M's, chopped nuts
2 cups granulated sugar
1/2 cup water
1 1/2 sticks butter
Mini cupcake wrappers
Directions
Cut the lollipop sticks in half at an angle. This will help to push them into the apple pieces easier. With the melon baller, scoop little balls out of the apple. Each ball should have a section of apple peel. Push half of a lollipop stick into the peel of each ball. Pat the apple pieces dry. In a large, heavy-bottom saucepan, combine 2 cups granulated sugar with the water. Heat over medium heat until the sugar turns an deep amber color, about 15 minutes. Add the remaining 1 1/2 sticks butter and stir until it melts and is thoroughly incorporated. Let cool slightly. Then dip and swirl the mini apples in the caramel, followed by rolling the apples in your selection of toppings. Let the kids go wacky with them! If you can wrangle the apples away from them before they eat them, place the mini apples in paper candy cups to set.
Comments
5 family movie night ideas | ksl.com - [...] Since the evil queen's henchman (the fabulous Timothy Spall) spends the entire film trying to trick Gisele into biting…
5 family movie night ideas – KSL | MOVIE MAGAZINE - [...] Since a immorality queen's companion (the fanciful Timothy Spall) spends a whole film perplexing to pretence Gisele into satirical…
5 family movie night ideas – KSL | LATEST MOVIES GUIDE - [...] Since a immorality queen's companion (the fanciful Timothy Spall) spends a whole film perplexing to pretence Gisele into satirical…