Open Face B.L.T.A. with a Fried Egg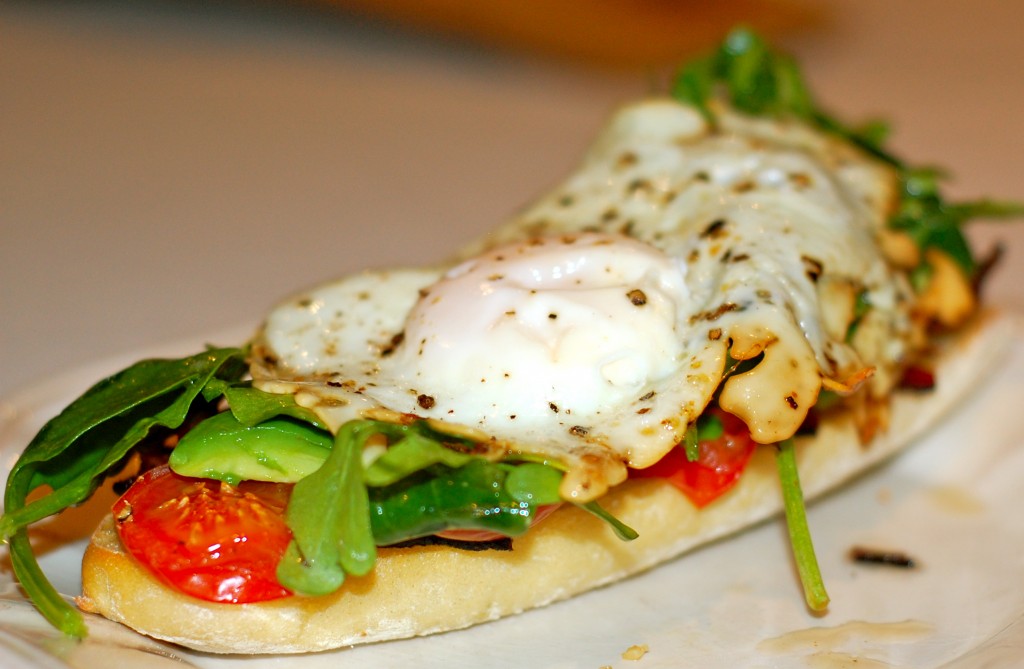 My parents have chickens. So every week my mom swings by with twenty-four beautiful organic eggs. That's a lot of eggs. So, I had to get creative on what to do with so many eggs. You can only make so many cakes and cookies before your too big to fit through the door. This sandwich gives you that breakfast for dinner feeling. It's comforting and ridiculously yummy. Go home tonight and make. this. sandwich.
Hubby's note: You had me at "fried".
Serves 2
Ingredients:
6 thick slices of bacon
1 mini baguette cut in half
2 tablespoons butter
1 teaspoon chopped garlic
8 tomato slices
1 sliced avocado
Hefty Handful of baby spinach (tossed with olive oil and a teaspoon of lemon juice)
Directions:
Layer your tomatoes on a baking sheet. Drizzle with oil and then season with salt and pepper. Bake at 375 for 8 minutes. In a skillet, cook the bacon over moderate heat, turning, until crisp, about 8 minutes. (Something you will learn quickly about me….I love bacon. It should be it's own food group.) Transfer to paper towels to drain. Steal one piece to nibble on. Leave the bacon grease in the pan for now.
Spread the butter on the bread. Then sprinkle the garlic across the top. Put in the oven until the bread starts to crisp at the edges (about 4-5 minutes). Pull it out and then top with the bacon, tomato and spinach.
Heat the bacon grease back up Add the egg and fry over moderate heat, turning once, until crisp around the edge, about 4 minutes; the yolk should still be runny. Slide the egg onto the spinach. Devour with lots of napkins and moans and groans from whoever you make this for.
Comments