Meyer Lemon Bars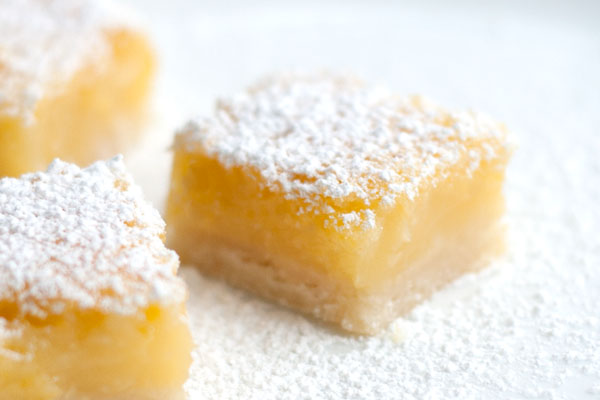 We love Meyer lemons. As in, we have our own tree. And we look everyday to see if another beautiful sweet little lemon is ready for picking. On halloween, our friend Josh the farmer had a few beers and looked at our tree and said, "this needs to be pruned." Within minutes he had gone Edward Scissorhands on my cute little tree and I was left holding about 20 green lemons. I tried not to cry. I also tried not to prune his ass. So I put them in a large bowl and low and behold, every last one of those little lemons ripened up. When I busted out my 600 cookies last week, I had to include these lemon bars. This is my mom's recipe that she has been making for as long as I can remember. Every time I make them, I print out the recipe along with it because I am always asked for a copy. Lemon bars are the perfect winter treat. They give you a burst of summer citrus even if it is windy. again.
This recipe is so easy that if Pixie knew how to read, she could make them. So, whip up a batch this weekend for the holidays!
Ingredients:
1 cup butter
1/2 cup powder sugar
2 cups flour
4 eggs
2 cups sugar
5 tblsp. fresh lemon juice
grated rind of 2 lemons (optional)
Directions
Preheat oven to 350. Mix butter, powder sugar and flour in a bowl and then pat down into a 9 by 13 pan. Bake for 15 minutes (you want the crust to start getting a light brown around the edges). Beat the remaining ingredients together and pour over the hot crust. Bake at 350 for 25 minutes. Remove from oven and heavily dust with powder sugar. Let cool at room temperature. Cut into squares and enjoy!
Comments