Garlicky Yummy Pasta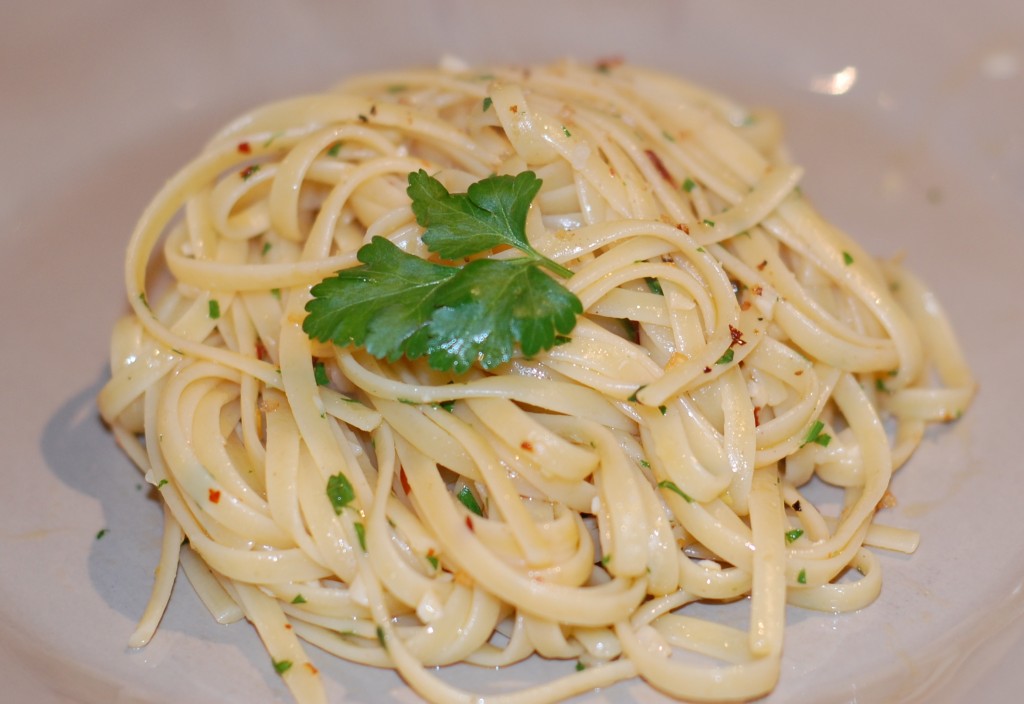 I was raised in a family where there was NEVER enough garlic in each and every dish. We are Hungarian which loosely translated means country of people who live for garlic. If you know me or my family you're nodding right now and thinking of langos. And then you're wondering if you have any Bridgeford dough in your freezer. In the meantime, I'm sure you have some kind of pasta floating around so make this for dinner tonight. Keep in mind though….Whoever you make this for has to eat it too. Cause your gonna be a garlic stink bomb.
Hubby's note: Two things. First off, did my wife mention she loves garlic? Second, be forewarned. I've left quite a few garlic "stink bombs" in our house after this meal. Those things linger.
Serves: 4
Ingredients:
1 pound linguine, pasta (uncooked)
3 teaspoons salt
1/2 cup reserved pasta water
7 tablespoons EVOO
6 tablespoons fresh minced garlic
3/4 teaspoon dried red pepper flakes
1/4 cup chopped flat leaf parsley
2 teaspoons fresh lemon juice
1/2 cup grated parmesan cheese
Salt and black pepper
Directions:
Bring about 5 quarts of water to a boil with 3 teaspoons salt; add in the linguine and cook for 8-10 minutes; drain but RESERVE 1/2 cup pasta water.
While the pasta is boiling; Heat about 4 tablespoons olive oil over medium-low heat in a skillet.
Add the ridiculously yummy garlic and about 1/2 teaspoon kosher salt with black pepper to taste; saute stirring often until the garlic is light brown (about 3-4 minutes). Don't cook it too long because that is when garlic gets that bitter taste which is YUCK. Remove from heat and stir in the crushed red pepper flakes, parsley, lemon juice and about 2 tablespoons of pasta cooking water; mix to combine.
Transfer the drained pasta to a large serving bowl; toss with remaining 3 tablespoons olive oil and the remaining reserved cooking water.
Add in the garlic mixture; toss well to combine.
Season with more black pepper and salt to taste if desired.
Serve immediately with grated Parmesan cheese.
DIG IN!
Comments