Flourless Nutella Cake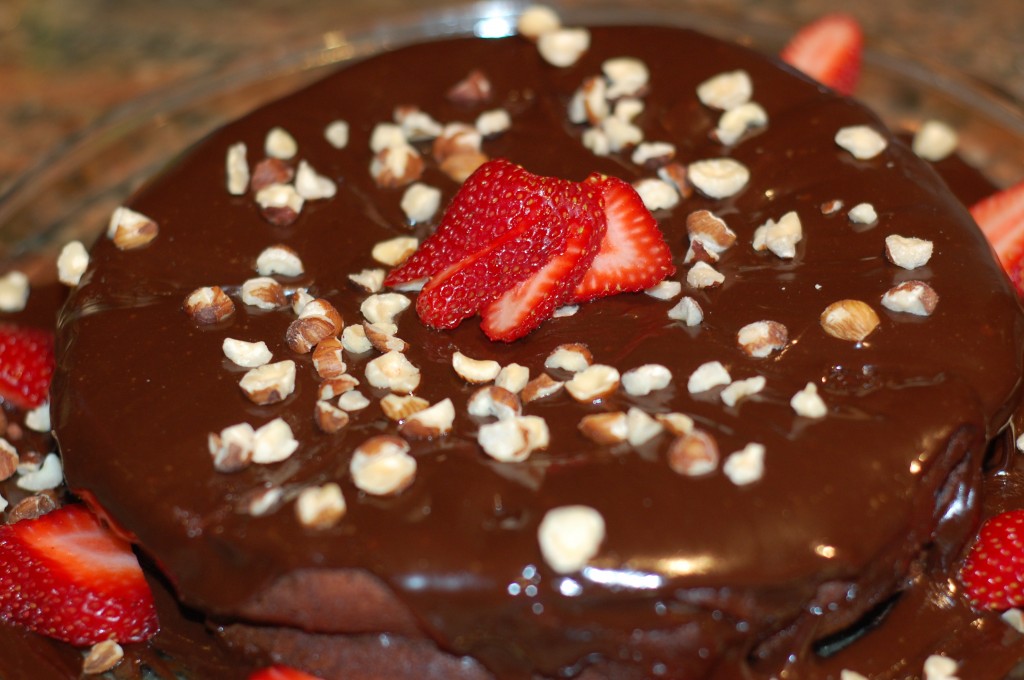 Oh Nutella, how I love thee…. Growing up we would make these amazing crepes by spreading Nutella on them, rolling them up and chowing them down (don't worry, the French crepe recipe is coming soon). Recently, my mom and Pixie were out running errands together before the three of us went for pedicures. Don't judge! It was for my mom's birthday and Pixie is a GIRLY. GIRL! So, my mom calls me and says, "We got too busy and never got her any lunch. She's been eating her snacks but will you bring her a sandwich too?" And I'm thinking to myself, "well it is kind of a special occasion so I will make her a peanut butter and Nutella sandwich." I've never seen a kid eat a sandwich so fast. She was covered in Nutella and had this goofy cross eyed look on her face like, "where have you been all of my life Nutella!?!?!? I'm only 3 1/2 but where have you been!?!?!" Anyways, back to this cake. This is my husband's absolute favorite cake. Well, this one and my Guiness Chocolate Cake. Each year for his birthday I can almost guarantee he will ask for this cake. And then his eyes inevitably end up crossing… and I see where Pixie gets it from.
Hubby's note: There are two things that my wife does that makes my eyes cross. This is the "G" rated one. And this cake is so good, it may possibly be a substitute for the other one. I like it with Port. Or Tobin James' Late Harvest Zinfandel. This cake actually melts in your mouth. I don't mean that as a cliche. It physically melts. No chewing required. Eating this cake is like floating on a warm hazelnut cloud. Um…that made much more sense in my head. And for the record, i'm working on butching up the girly girl.
Ingredients…
Cake:
6 large eggs, separated
1 pinch good ol' fashioned Morton salt
1/2 cup room temperature unsalted butter
14 ounces Nutella (basically a small jar)
1 tablespoon rum
3/4 cup ground hazelnuts
4 ounces good semi-sweet chocolate, melted
Icing:
4 ounces chopped hazelnuts
1/2 cup heavy cream
1 tablespoon rum
6 ounces good semi-sweet chocolate
Directions:
Preheat oven to 350-degrees. Grease and line a 9 inch springform pan with parchment paper. Using your Kitchenaid or handheld mixer, beat the egg whites and salt until stiff. In a separate bowl, beat the butter and Nutella together. Then add the rum, egg yolks, and ground hazelnuts. Fold in the cooled, melted chocolate, then lighten the mixture with a dollop of egg white, which you can beat in as roughly as you want, before gently folding the rest of them in a third at a time. Pour into the prepared pan and cook for 45 minutes then let cool on rack. In a heavy-bottomed sauce pan, add the cream, rum, and chocolate and heat gently. Once the chocolate's melted, take the pan off the heat and whisk. Unmold the cooled cake. Take whatever cake platter you are using and place upside over the cake. Flip the cake over, and gently remove the springform base and parchment paper. Cover the top with the chocolate icing, and sprinkle with the hazelnuts.
Comments