Cajun Beer Battered Avocado Tacos with Corn and Red Pepper Salsa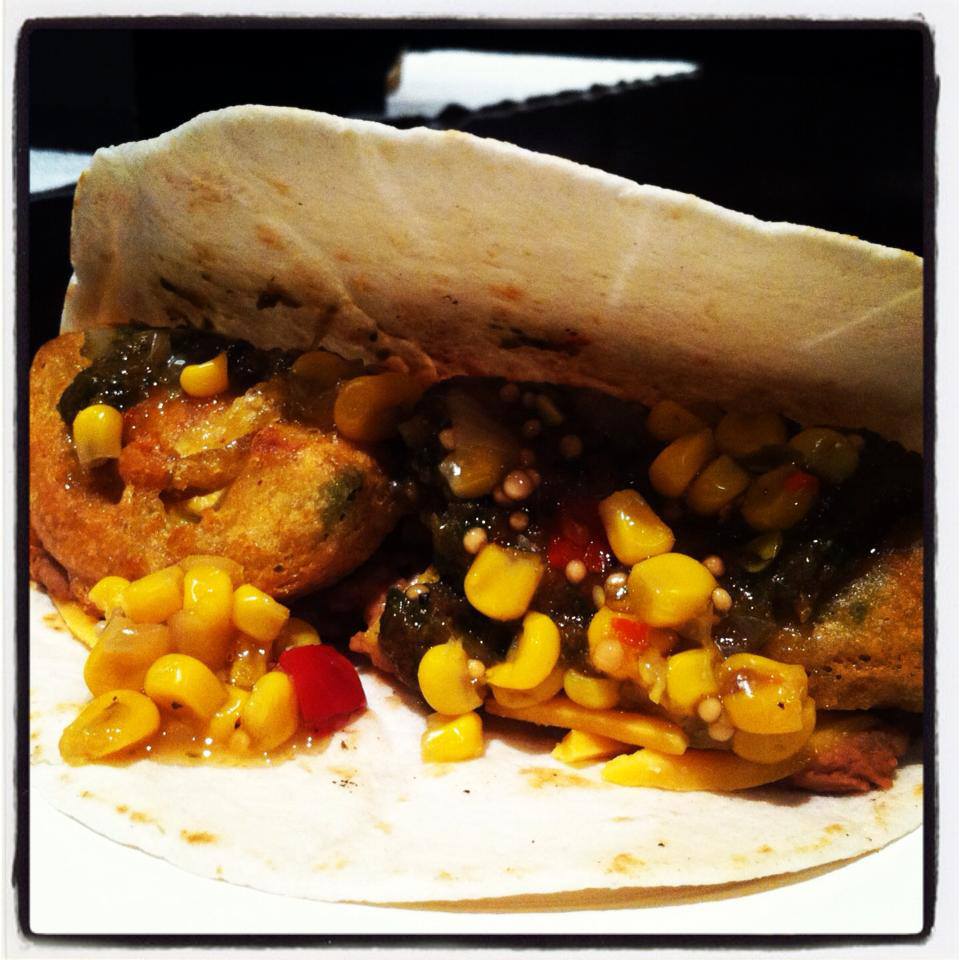 We are back from our Disney cruise to Vancouver. I swear it took me three days to get rid of my sea legs. We had a great time exploring San Francisco and catching up with old friends, a cold and rainy day in Victoria where we spent time with some peacocks, baby pigs and goats and explored the city and we ended the cruise in Vancouver where we explored Granville Island, toured the city and ate some ridiculously great food and drank some amazing craft beers.
Highlights:
1. Each city we visited boasted that their Chinatown was the largest Chinatown in North America.
2. Buggies and Pixie drank out of a toilet/drinking fountain at the Observatory in San Francisco.
3. Pixie sang "California Here I Come" while standing on the Golden Gate Bridge.
4. The International waters off of California are neither warm nor calm during the month of May.
5. No one puked.
It was so great to have a break from cooking but I was happy to pick my own meals when we got back home!
Ingredients
4 ripe avocados
1 box McCormick beer batter
1 beer (half is for the batter. The other half is for you. You're welcome.)
1 teaspoon cayenne papper
1 1/2 cups peanut oil
6 tortillas
2 tablespoons butter
1 cup corn
1 cup red pepper diced
1 garlic clove diced
1/2 jalapeno diced without seeds
1 tablespoon olive oil
Salt and Pepper to taste
1/2 cup cheddar cheese
Directions
Heat one tablespoon olive oil in a saute pan. Add corn, red pepper, garlic and jalapeno. Cook for 5-6 minutes. Add salt and pepper to taste. Transfer to a bowl, cover and refrigerate. This can easily be made a day or two ahead of time and kept in an airtight container in the refrigerator.
In a skillet, melt the butter and fry the tortillas, one at a time until golden brown.
Mix beer batter to instructions on box and add cayenne pepper. Cut avocados in half, remove pit and then cut each half of avocado in half again. Remove from skin and add to batter. Heat oil until it shimmers and is very hot. Using a slotted spoon, place the batter covered avocado into the hot oil. Be sure to not let it splatter on you! Fry until golden brown and then drain on a paper towel lined plate.
Place two pieces of fried avocado on a tortilla. Top with corn salsa and cheddar cheese. Enjoy!
Comments