Beef and Spinach Lasagna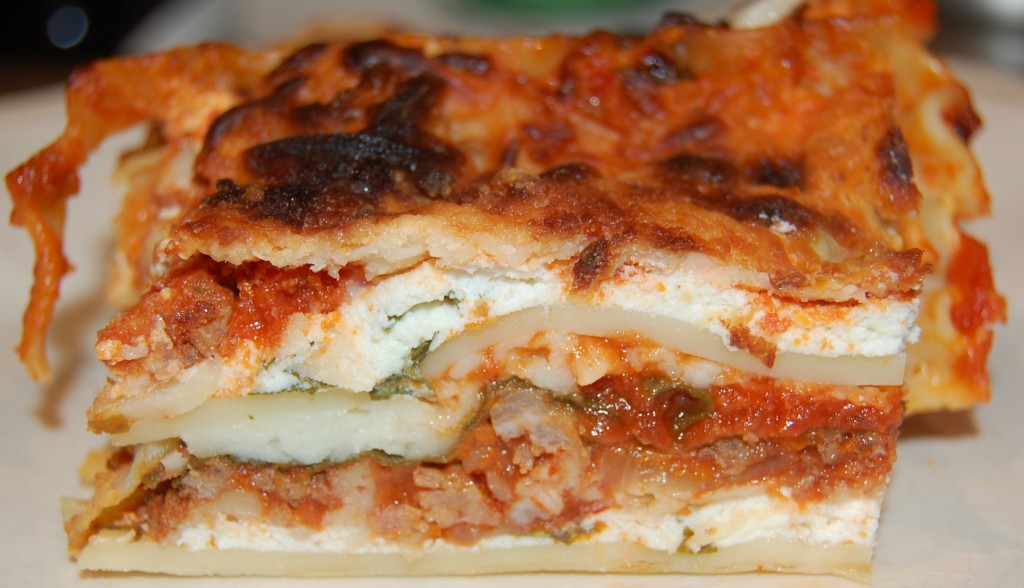 I have always shied away from making lasagna. It just seems like a time consuming, awful mess. That was until my brilliant mother in law parted the clouds and showed me the way…to the noodles you don't have to boil and lay on foil and get frustrated with because they stick or rip. Thus I give you, easy as pie lasagna.
Hubby's note: Just remember, that brilliance runs in the family.

Ingredients
1-½ pound Ground Beef
1 pound Hot Breakfast Sausage
6 cloves Garlic, Minced
1 onion, diced
2 cans (14.5 Ounce) Whole Tomatoes
2 cans (6 Ounce) Tomato Paste
2 Tablespoons Dried Parsley
2 Tablespoons Dried Basil
2 Tablespoons Dried Oregano
1 teaspoon kosher Salt
1 container ricotta cheese
2 Eggs, beaten
1 cup Grated Parmesan Cheese
1 bag baby spinach
2 Tablespoons Dried Parsley
1 teaspoon Salt
1 pound Shredded Mozzarella Cheese
1 package no cook Lasagna Noodles
Directions:
In a large skillet, combine ground beef, sausage, onion and garlic. Cook over medium heat until brown. Add tomatoes, tomato paste, parsley, basil, oregano and salt. After adding the tomatoes, simmer for 45 minutes.
In a medium bowl, mix ricotta cheese, eggs, grated Parmesan, parsley, and 1 more teaspoon salt. Stir together well. Set aside.
To assemble:
Coat the bottom of your casserole dish with olive oil. Arrange 4 cooked lasagna noodles in the bottom of your casserole dish, overlapping slightly. Spoon half the ricotta cheese mixture over the noodles. Spread evenly. Cover ricotta cheese with a layer of spinach and then mozzarella cheese. Spoon a third of the meat sauce mixture over the top. Repeat, ending with meat sauce mixture. Give the top a good coating of extra Parmesan and extra mozzarella.
Bake at 350 for 30-40 minutes, or until top is hot and bubbly.
Comments