Belgian Waffles with Blueberry Meyer Lemon Butter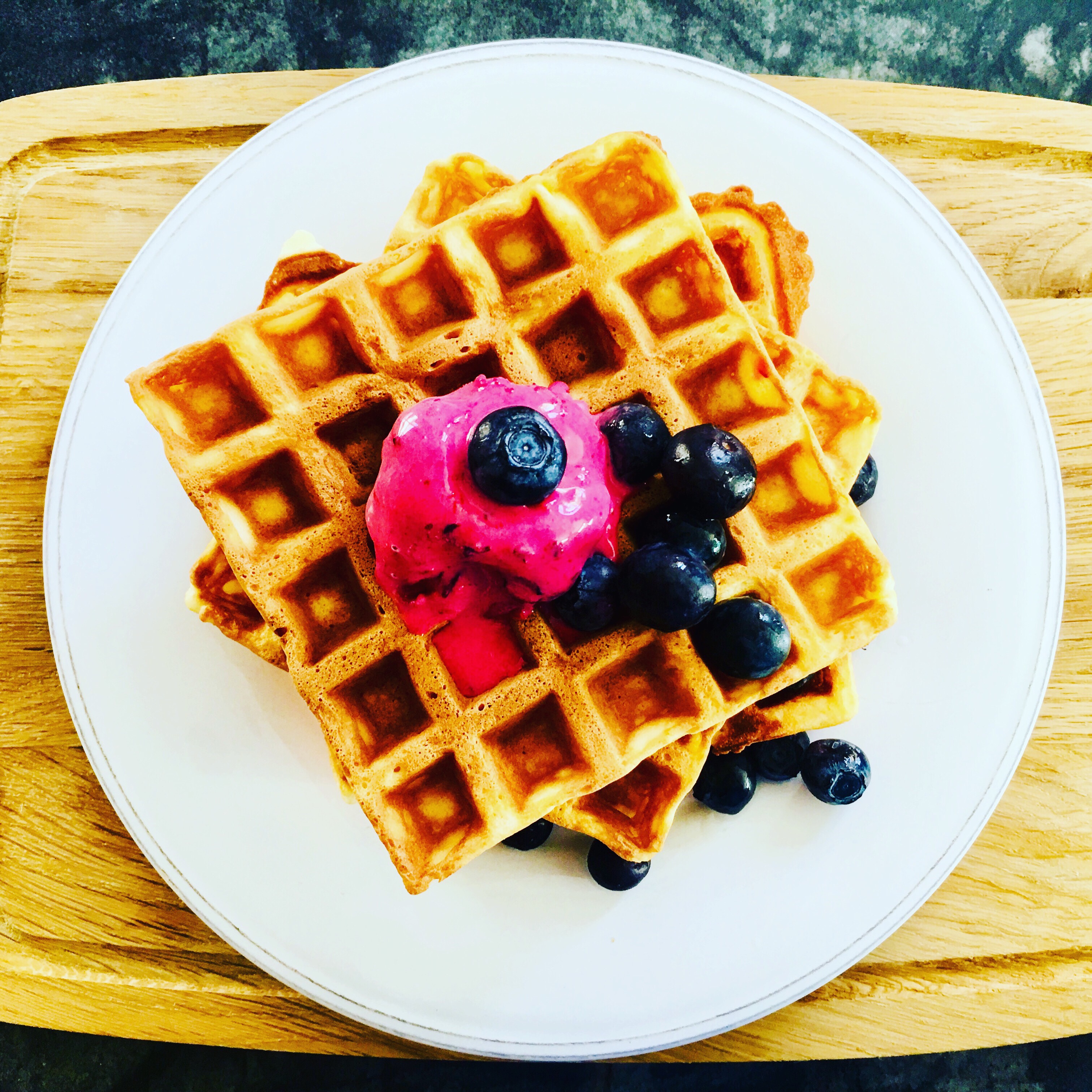 Happy New Year! I know most people love Thanksgiving and Christmas but for me; New Year's Eve has always been my favorite. Not because of the prosecco but let's be honest, that is an added bonus of the holiday. I love looking back at the year and thinking about all of our accomplishments, failures and memories. I love thinking back to what Buggies and Pixie learned whether academically or through life skills. When the countdown to the New Year starts, I am always teary eyed; grateful for another year of health, love, friendships, experiences and memories. Once those big numbers light up and the New Year has begun, I look forward to what the next year will bring for my family and friends. I look forward to setting goals and making plans with the friends and family I am so lucky to navigate this life with. I love looking forward to things like the hubby's 40th birthday, my mom finally retiring, our 15 year anniversary and so many wonderful things that can happen in a year!
January 20th will mark one year since the infamous pipe busted and our kitchen flooded. We weren't full operational in the kitchen again until August and man! It was R O U G H cooking out of the motorhome in the front yard and basically using a toaster for everything else. New Year, new kitchen, no broken pipes. Just a heart full of gratitude and excitement for what 2018 will bring. Comment below with what you are most looking forward to this year….
Now onto waffles!!! You asked and I am so happy you did!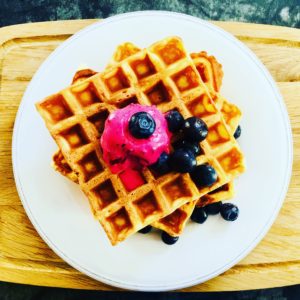 Belgian Waffles with Blueberry Meyer Lemon Butter
2018-01-12 12:50:18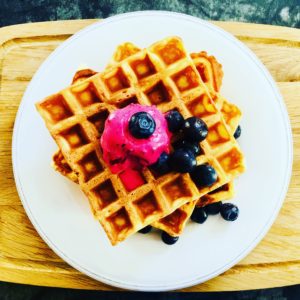 For The Waffles
3 eggs, separated
2 cups milk
5 oz unsalted butter, melted and cooled
1 1/2 teaspoons vanilla extract
2 1/4 cups self-rising flour
3 tablespoons baker's sugar
For the Blueberry Lemon Butter
1 clamshell blueberries
2 Meyer lemons, juiced
1/2 cup water
3 tablespoons sugar
1 teaspoon vanilla extract
2 sticks butter, room temperature
1/4 cup powdered sugar
Instructions
These directions are for a Breville Waffle Maker. If you don't have a waffle maker, our buddies at Trader Joe's do and you can find some frozen Belgian Waffles that work as well. Otherwise, follow the directions of your waffle maker but the batter should work in any machine.
Place egg yolks, milk, butter and vanilla in a large bowl and whisk until well combined.
Combine flour and sugar into a second large mixing bowl and make a well in the center.
Carefully whisk in egg yolk-milk mixture to form a smooth batter.
Beat egg whites with electric hand mixer until stiff peaks form. Gently fold egg whites into batter.
Select BELGIAN setting and set the browning control dial to setting 6.
Preheat the waffle maker until the LCD color changes to orange and HEATING disappears.
Pour 1/2 cup of batter into each waffle square and close lid to cook.
At the end of the cooking cycle, open the lid and carefully remove your waffles.Repeat with remaining batter.
For the butter
Place blueberries, lemon juice, water, and sugar in a saucepan and bring to a boil. Boil for 5-10 minutes and then remove from heat. Let cool completely. Stir in vanilla extract. Either using an immersion hand blender, food processor or regular blender, puree blueberry mixture until smooth. If using a blender or food processor, add two sticks of butter and powdered sugar and blend until combined. Otherwise, transfer mixture to mixing bowl and using a hand mixer or stand mixer, add butter and whip until combined. Refrigerate about 3 hours or overnight.
Once you've made the waffles, top with a scoop of butter and some fresh blueberries!
Mommy Bistro http://www.mommybistro.com/
Comments